Archive for the 'General Update' Category
Summer is probably halfway through and I haven't erased the spring board yet, ooops.
Previous Chalkboard Calendar posts right here!
I'm still trucking on the 100 day project, but like last year, I'm sure I will have plenty of make-up days afterward. Just a reminder, my goal this year's 100 days was to focus on getting more of my work up on print on demand sites, and to finally start getting some designs printed at spoonflower on fabric. I found a 2017 planner I bought at the dollar store last fall, and so I've been using that to keep track of what I've been doing, (since I haven't been posting daily on instagram) to stay accountable.

Today I am excited to share a review of some items I purchased from Society6 of my own designs. I placed an order which included a cell phone case, a tote bag, 2 zipper pouches, and a pair of leggings. Most of the items were birthday gifts for my sister, while the cell phone case and one of the zipper pouches were for myself.
The phone case came first (a week out from ordering it) and I snapped it on my phone immediately and it's been on there ever since. I love it! I've had my society6 shop up since 2012 and have mostly sold phone cases from there. You don't get to see who makes the purchases, and there isn't a review/feedback system (that I can see anyway) like on etsy, ebay or even amazon, so as far as I know my customers have been happy. I know one customer that has been very happy… my sister. She has purchased a few phone cases from me over the years, so I had been able to see them in person and can vouch for the quality. I've also been told that she got lots of compliments on those cases, and was even present a few times when people praised the phone cases. I bought the slim case for myself (image and video above), specifically because the thick one looks like it had a black liner and the buttons that stick out are black, and I didn't like that with this light and bright pattern. I love my case, which is great because I've been saying for years that I was going to buy one for myself. I don't think it will be my last one either!
The rest of the haul arrived together, the next week. Opening up the packaging felt like Christmas, I've been waiting for this moment forever. I pulled the fish bag out first and was all heart eyes. My sister had specifically said she wanted this bag, and this pattern was a favorite.
A picture of the bag in the wild. It looks great! The fabric is a nice sturdy canvas and the resolution is what I'd hoped for. The inside of the fabric is coated in black, so it has a dark lining, but not an additional fabric lining, has black handles and it seems very sturdy.
Here is a picture of my pattern on the left and here is a picture of the bag on the right. You can see the texture of the fabric, but it still translated well. The color being off is probably more of a camera issue and lighting issue, as I took it with my cell phone. Now it's time for some brutal honesty…
My sister also wanted this zipper pouch with my grass and stars pattern. I placed the order for everything, and then while I was impatiently waiting for everything to arrive I had the idea of watching some Society6 product reviews. At first everything was going great. The reviewers were stoked and raved about the pouches they ordered. Then I hit a couple videos comparing society6 to redbubble. The reviewer confirmed a fear of mine. She complained that the printing on the fabric was really low resolution. When you look at the mock ups on society6 of the carry-all pouches, the fabric looks very rough. Society6 describes the fabric as a "a durable canvas-like exterior". I was still hopeful that maybe when they arrived I would be pleasantly surprised. When the package arrived, I pulled out the two pouches and you can see… they are very low resolution. The fabric, while much softer to the touch than canvas fabric, has a VERY low thread count. So low that you can literally see gaps in the fabric between the threads with the naked eye. The result is a very low resolution reproduction of your design. I likened the fabric to a luxurious burlap, lol.
When you look at these two pouches it looks like I took very blurry pictures, but if you look at the surrounding grass, you can see everything is sharp, it's just the printing that is fuzzy. The zipper seems durable, and there is a fabric lining with interior pockets. It has a cute zipper pull and I love the detail of the society6 label on the side. I just can't understand why they print on such horrible fabric for the pouches, the part that matters the most. I'm not sure why they don't use the same fabric that is used on the tote bags. The products are all marked as made in the United States and Society6 has full guarantee and return policy within 90 days. If I understand correctly, after 90 days they will only provide store credit, and not cash back. My sister said she liked her pouch, though it was smaller than she imagined. I won't be returning my pouch either, as it gets the job done, and you can see that it is still pencils. I am chalking it up to a learning experience. I hope that Society6 will make updates to this particular product line, but in the meantime I deactivated the pouches from my shop. I don't want any customers ordering something expecting what is on the left in the picture, but getting what is on the right. If someone would like a pouch with my patterns on it, there is always redbubble.
Lastly, the leggings. They came out wonderfully! The color and print is what I expected and hoped for, and the construction and material are high quality. The material is a silky and stretchy material, with a good thickness to it (not sheer/transparent). I'd highly recommend them. Overall I am happy with my purchases. If I were made of money I'd buy more and explore different items, hello pillows, bed linens, and rugs! I'd also google a review of any item I bought first, youtube reviews are great because you get to see the items in action. That being said, at the recommendation and encouragement of Julie Tillman (once again) I decided to also start uploading to Redbubble. I've only added 3 designs so far, but I've already had 2 sales (Thank you to whomever you are out there!) They seem to be very much like Society6, but have slightly different product offerings…
My favorite has to be this adorable A line dress, so cute. My sister might get it in the star pattern.
I love these cell phone wallets, unfortunately it appears they don't have it for my phone, although I have a regular iphone 7 and the cases for 6 fit the 7, with just a bit of difference in the camera lens location, so it might still work.
The barn quilt pattern on a t-shirt dress
I could see these acrylic art blocks becoming addictive. They make me think of Sid Dickens blocks, but small and we all know how much I love small things, especially small art (ahem, artomat).
That's it for now. Thank you for stopping by!
Save
Save
Save
Save
Save
Save
Save
Save
Save
Save
One of the first inspirations I had in making mailart was an editorial in Real Simple magazine, probably in 2000 or 2001. The editor told a short story about lamenting to her mail carrier about only receiving bills and junk mail, and her carrier responded "how do you think I feel, that's all I deliver anymore?"

I decided then and there that I wanted to make mail that was fun for me to send, fun for my recipient to receive, and fun for all the carriers and postal workers in between my recipient and myself as well! I hope that it brightens not just myself and my friend's day. I made my first mailart postcard around 2000-2001 (above from my Flickr mailart album). This was probably a few years before I even discovered there was a whole "mailart" movement/culture/community.
(Side note: I love that the postcard has grass and stars, even in my original mailart that far back.)
I honestly think of that Real Simple editor's letter all the time still. When I make mailart I like to imagine all the hands it passes through between myself and the recipient. When I first started making mailart I focused mainly on postcards because the artwork would be able to be seen by everyone along the way, and while post carriers are probably dissuaded from reading the letters on the back, I'm sure they do and I would sometimes address them and wish them a good day.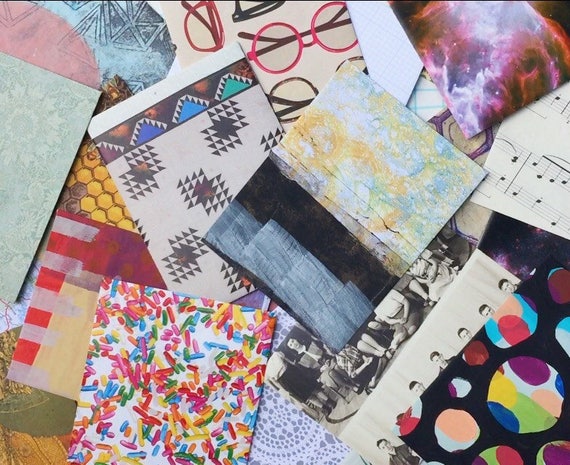 Fast forward to today and that sentiment is just as true as it was in the beginning, though now I like to spread that joy even further by offering my original stationery paper products (like these one of a kind handmade envelopes) in my online shop. Visit robayre.etsy.com today to find some paper treasures that will certainly brighten my day, hopefully your day, your recipient's day, and all the carriers in between.
Save
Save
Save
Save
Save
I recently started listening to the new podcast 100 Creatives. It's the 100 Day Project of Sally Harris (don't you just love how the 100 Day project can take SO many forms?). She is interviewing 100 Creative people (with an emphasis on creatives that are also doing the 100 day project), and to just jump into learning how to podcast.
In episode 12, Sally mentioned a tip she heard, "For big events in your life you should try and write down 100 details", and I LOVE that idea. I am such a list taker. Where some people might be able to scrap book, I keep my season chalkboard lists, and where some people might use standard planners, I fill blank pages in my midori with to-do lists.
Ever since Oprah started promoting (probably in the 90s) the whole gratitude journal and writing 5 grateful things daily, I've often wanted and tried to do it myself, but could never stay consistent and would struggle to think of things that weren't repetitive or seem cliche/schmaltzy. I even bought one of those 5 year journals to write down my lists in and still couldn't do it.
BUT, the idea of writing down details though rather than gratitudes! That completely switches the approach for me. Instead of feeling this pressure to find something PROFOUND AND MEANINGFUL, I could just try to remember the details. I feel like if I remember a detail, there was probably something about it that I am grateful for. I'm not saying that all details will be positive, but even if not, they are probably still worth chronicling.
The comparison and differences in these two approaches seems HUGE to me. For example if I think of things I was grateful for yesterday, my list would be:
-Feeling loved by my niece and nephews
-Matt's parents buying us dinner at the Thai Pav yesterday
-The work day going by quickly
-Getting my steps in early
-My mom wanting to give Matt a plate of black forest cake squares
And those 5 things were a struggle to come up with.
Now, if I approach it as a list of details
-All the laughing we did at work when Chris brought in his Alexa mannequin, it made the day fly by
-The responses I got on my facebook memory about getting the fluppy pup doll when I was a kid
-Calling my mom on the phone and talking to her about some of our creative projects
-Sheila leaving the kindest post on my fb page about our friendship being the best thing that the internet has done for her
-The bag of Bishop's cat food was still available at the vet's office, even though we neglected to pick it up for weeks
-I was able to go to the Y directly after work and get my steps in, leaving the rest of my evening wide open
-Matt and I deciding on a whim to check out the new Thai Pavilion location, inviting his parents and them being able to meet us there so quickly. It was effortless and spontaneous.
-Stopping by Geoff and Dacia's to pick up more MST3000 kickstarter perks, and there was a really cool mug in it.
-Doc (7yo) being so excited to talk to me about Pokemon, he held both of my hands in his hands to keep my full attention
-Gemma (4yo) climbing up next to me to try and steal some of that attention and asking "Did you miss me too?" which I can only assume meant she missed me even though it's only been a week or 2 since last time I saw her
-Gemma holding up her legs for me to grab her and hold her upside down, led Martin to claim "me next" and scampered over to the chair same chair Gemma had been in, leaned back and kicked his legs up the same way (as if that was the only way that I could do the same thing for him)
-Trying to hold Doc upside down too (getting too tall, he could put his hands on the ground and almost walk forward)
-Waving goodbye and Martin (1.5yo) was completely overcome and distraught with my leaving, he started crying immediately. As Matt said, he didn't want the fun to end. It's sad to see a child upset, but at the same time I realized it felt good to be so loved that when you leave, someone is so expressively overwhelmed with sadness.
-We had the rest of the whole evening to ourselves, and Matt sat on the couch with me, on his phone, while I watched a crime doc episode, until he remembered "we should watch the Norm MacDonald netflix special. It was good. I love Norm.
-I was able to post twice to instagram over the day and it felt fairly effortless. Sometimes it can feel like a struggle and if I don't do it, it feels like something is hanging over all day… just another thing that (like my daily steps, both of which I adore, but) I have to get done before I go to bed.
The second list of details was easy in comparison, there are 3x as many, and the amount of information provided sets more of a mood and lays the groundwork for actually recalling the memory.
In a year from now, reading "-The work day going by quickly" it is just so flat, it could be any day. But in contrast, reading "-All the laughing we did at work when Chris brought in his Alexa mannequin, it made the day fly by" will evoke real memories and emotions. I will definitely remember that specific day!
I also love that this approach of recording details can be applied in so many methods. Does it really need to be 100? No. Does it really need to be reserved for special occasions? No. It could be used in scrapbooking, in journaling (writing/art), in daily social media posts and updates (facebook/instagram/etc.), on a chalkboard or dry erase board, on loose sheets of notepaper (raise your hand if you're guilty of writing notes like this and the papers pile up everywhere, 🙌 🙌 🙌 ).
I have been wanting photo albums for my Fuji Instax wide pictures, ever since I got my camera in 2011. When deciding what instax instant camera I wanted back then, I had the option of the Wide or the Mini. I'm pretty sure I already had a Polaroid Pogo printer at that point, so the business card sized instants didn't appeal as much. I liked the larger size of the Wide, but I also liked that they were landscape frame, with the wider border on the bottom, much like the Polaroid 600 film. There was something about that portrait, vertical (super tall and narrow) frame of the mini that I don't like as much. Well, pretty quickly after I got my wide, it became apparent that the Instax Mini is actually the camera that has taken off in popularity. There are soooo many albums and cute products for the Minis. You can even buy the film and cameras at big box stores just about everywhere. I pinned an album or two for the Wide on pinterest, and by the time I went to purchase them they were all sold out, and haven't restocked them in years since. Other albums marketed for Instax Wide online are not what they advertise. If you read the comments and reviews people will say that the album slots are actually way too big, and that they are just selling them as albums for Instax Wide, but they were not made for that.

Unlike with my huge collection of Polaroid instant film pictures (all dated, additional info on back, and all kept together in the same spot) my Instax pictures have just been floating around, undocumented, and dispersed randomly throughout the house (one in a pile of mail, one on the mantel, 4 on the refrigerator, etc.). It's pretty disheartening, and I know I am to blame because I could just throw them in with my Polaroids, but I feel like the disorganization from the get-go set a standard, and then I used the excuse of not having an album to let it continue. The problem of my Instax Wide pictures laying about everywhere has honestly made me not really want to take pictures with it because they'll probably just get lost anyway.
Welllll, this weekend I was in an Urban Outfitters and looked at the section for Fuji products and started my tradition of bemoaning that there are tons of cute albums for the Minis, but none for the…wait, what?!? lo and behold! There WERE albums for the Wide. $12! I snapped up 3! They had two styles, a hot pink one (if I remember correctly) and the black and white graph scribble style that honestly couldn't be more perfect if it had been designed for me in mind. Each album holds 40 pictures (one can fit into the cover display as well). Now that I am home, I kind of wish I had purchased a couple more because as hard as it was to buy them before, I am guessing it will happen again shortly. Bad news is that apparently they are an in-store only product, and not on their website. I am not even going to go to that place, where with my luck the Wide film will be discontinued.

I AM SO EXCITED to finally have these albums made specifically for the Fuji Instax Wide pictures. Just gathering random pictures from here and there throughout the house I've already filled one album. I want to take new pictures too! Now I want to clear off my messy coffee table to have my albums displayed there, I'm THAT EXCITED AND MOTIVATED.
An unexpected bonus is that while filling the albums I realized the layout is sort of diptych. I was arranging and rearranging for themes and pieces that go well together – pictures that maybe weren't necessarily taken together, of the same subject matter, or meant to go together, but work well facing each other. For example the pictures above (might be hard to see with reflections on the album pages) a winter scene and a similar monochromatic geometric collection of shapes, and a photograph of a tree covered with a rainbow of leaves changing color next to a garland display I made of fall leaves also in a rainbow of colors.
If you are looking for an album to hold your Fuji Instax Wide pictures, hurry over to your nearest Urban Outfitters now.
As usual, I am only getting around to posting my seasonal chalkboard well after the new season is on its way. Winter was filled with so many great things!
My friend BZedan was inspired by my seasonal chalkboard and started one of their own. I love that their board also has a list of songs that were on rotation during that season. I keep annual playlists, but often forget to add songs to it until the end of the year. A second list per season might help me with that.
Previous Chalkboard Calendar posts right here!
Congratulations Jessica__Loughrey, you are the winner of my virtual book tour copy of Journal Sparks.
And thank you so much to everyone who entered and all of the love I received on being part of this amazing book. It is wonderful to be part of such an encouraging and supportive community.
Please keep an eye on Emily Neuburger's instagram and website  and Storey for more posts from the virtual book tour.
The Storey giveaway is still going on until May 7th, so hop on over there to enter a chance to win a copy of the book as well as an awesome art kit from Dick Blick.
And it looks like Journal Sparks is a top seller on Amazon and the sale continues! The book which is normally $16.95 is going for $11.
The Giveaway is closed. Winner announced here.
In the beginning of 2016 I was contacted by author, artist and teacher Emily Neuburger to be included in her new book Journal Sparks. Fast forward through all the hard work Emily did to build this amazing book, and the book is FINALLY out by Storey Publishing this week. Now, not only was I invited to be included in this gorgeous book, but I get to be part of the virtual book tour, share a project, AND give a copy of the book away to a lucky reader!
To say that this book is stunning is an understatement. I got my contributor's copy in the mail last week and then promptly purchased another to share with my family. It's a book for all ages, so as I am digging into it, I am also excited to share it with my niece and nephew as well! I can honestly say that being included in a book like this is a long time dream come true. The book is packed full of inspiring projects, beautiful art papers, stickers and more.
While trying to decide which project to feature the book kept opening up to the Imperfect Paper Quilting project (pages 82-83) and I took it as a sign. Not only do I love quilting and quilts, but I love layering bits of paper and collage.
The Imperfect Paper Quilting project can be as simple or complex as you would like to make it, and I love that Emily encourages the reader to be loose and imperfect. Just as I like to work! I made the spread above first, using a more traditional quilt pattern theme and put it in one of my handmade 4.25×5.5″ jotters. The project calls for at least 3 different papers, but I found an ad in a newspaper that had a great color scheme, orange, turquoise, and mustard yellow, and cut out triangles to paste down. I left white space in between the "blocks" and sewed over one side to drive home the "quilting" theme. I love how the word MAKE was a happy accident.
Next I decided to go bigger in my square sketchbook, and took a more loose interpretation. I looked through images of quilts I've pinned for inspiration, and found that the ones I'm drawn to are more modern and scrappy. I used scrap gelatin prints leftover from envelopes I've made. The "graph" style papers are what are printed inside the envelopes, as a security print.
And here's the finished piece. I also fed it through the sewing machine and kept it very simple, so as not to compete with the already colorful and patterned papers.
Now, onto the giveaway! Here are the rules:
1. This giveaway will take place from now (Thursday, April 20, 2017) and will close in one week, and a winner will be announced on Thursday, April 27th.
2. Leave a comment on this post, the post on instagram, OR the post on Facebook. One entry per person.
3. Only open to US residents.
4. Don't forget to follow Emily and myself on instagram
AND Guess What!? Storey is also hosting a giveaway, so visit this link for an extra chance at winning your own copy AS WELL AS an amazing artist's kit from Dick Blick.
And then for those that aren't interested in putting their luck in the hands of fate, my sister brought to my attention that while it is normally $16.95 (a super deal for the quality of the book in my opinion), it is a top seller at Amazon right now and is going for only $11.56, so you maywant to snap it up now while the getting's good.
Save
Save
I'm doing the 100 day project again this year. Last year during the project I focused on finishing up a lot of already started stationery projects and getting them listed in my shop.  Here is a link to 2016′s 100 days. It kept me very productive and I enjoyed being part of the community of other creative and prolific makers, so naturally I'm going to participate again.
This year for the 100 days project (starting on April 4th, 2017), I am focusing on getting already existing work (especially patterns) up on POD (Print on Demand sites). Last year I closely followed and was SO INSPIRED by my friend Julie's posts about artist's making passive income. I've had a Society6 shop (where I upload images and customers can get art prints, or products with my images printed on them)for years, but it is pretty neglected. I also want to finally get some of the patterns I designed printed onto fabric using Spoonflower. I've had an account with Spoonflower since they first opened up and I had to be put on a waiting list and be invited to join. And then… nothing. I NEVER actually printed anything. Fast forward to present day and I am using the 100 Day Project to remedy this quandary. I have 2 kind of selfish goals 1. to get a cell phone case of my own artwork for my own phone and 2. order fabric of my own artwork to sew a bunch of things.
On the first day I posted this over on Instagram: I'm laying down some groundwork to help me stick it out. 1. My main focus will be to get my work ready and up on POD sites. I've had a society6 shop for years but have not kept it up at all, and I want to finally get a lot of my favorite patterns up on spoonflower, and explore other options as well. 2. If it takes longer than 100 days, so be it 3. If I want to switch up focus on things for a while, so be it. 4. If I only work on something for 15 minutes a day, so be it. 5. Most importantly I want to work on something creative and productive each day. 6. I'm gonna stick with my general #robayre100days hashtag. Here we go!
I immediately dove in and worked on this vintage mail pattern. Cleaning it up, making it a repeatable pattern, etc.
I made it with 4 different backgrounds, pink, blue, gray and white and uploaded it to Spoonflower.
While I had it so close, I figured I might as well set it up as a digital (printable) pdf stationery set and painted a striped watercolor piece in the style of many of my other stationery sets, and uploaded it to etsy.
Next I wanted to work on my barn quilts pattern but before I got too far I realized I should have taken the vintage mail pattern and uploaded it to Society6. That opened a whole new can of worms because it had been so long since I had really dealt with Society6, that I had some learning curves. One thing that was GREAT to discover, was that if you upload original art files that are HUGE, it will enable other products immediately. Before, I had to customize each image to fit very specific dimensions for a mug vs. a cell phone case. Now, I can just re-position things on their website.
Another thing that is pretty great is that since I first opened my society6 shop, they have gone from offering art prints, mugs and cell phone cases, to a huge variety of additional products like towels, rugs, shower curtains, zipper pouches and more. For the next several days I just worked on adjusting the existing 24 patterns I already offered and enabling more products on those, like this handspun yarn, which was the very first pattern I uploaded there and my most popular product so far. I've uploaded a few more patterns now and am still doing research. One thing that was shared with me, and was very insightful was a Free Skillshare class on passive income, by top Society6 seller CatCoq, (you just have to create an account and log in to watch). Incidentally, Cat was also interviewed by Julie (mentioned above) in her passive income artist's interview series. So, that's where I am now with my 100 Day Project. And if that wasn't enough, I also committed to participating in the #30Letters30Days project as well.
AND! Tomorrow (Thursday, the 20th) I am participating in a virtual book tour for Emily Neuburger's new book "Journal Sparks". Check back here, and/or instagram and facebook for a peek into a project from the book and a chance to win your own copy.
Day 21 Folk Art – I LOVE, LOVE, LOVE this one. This is probably my favorite from the whole month. Last year the barn quilt author and artist Suzi Parron came to speak at my mom's quilt guild, and then we did a workshop with her as well, where we got to make our own barn quilts. My mom has been obsessed for years and it was so interesting to learn about them. The most fascinating thing being that they are a brand new art, as in this century! Don't they seem like something that should have been around in Amish country for hundreds of years? This pattern is going to be made into a fabric, for sure!
Day 22 Bicycle – This pattern was kind of a cheat, in that I made it years and years ago, but I don't think I ever shared it fully. Maybe I posted a pic of a bike or two, but never the full thing. I have even made little pinback buttons of the bike illustrations pictured here. I penciled in the bikes, then inked them, then painted very wet and loose watercolor around them. In case you don't know, I love bikes. My own bicycle in particular, and if you haven't heard it before, I have bought my same bike FOUR times because I love it so much!
Day 23 Pomegranate - When I think of pomegranates I think of my mom and how she seems to take pleasure it preparing a pomegranate. She'll prepare everything, gathering the fruit, a bowl, a knife and towel, opening it up and peeling it and filling a bowl full of the juicy gem like fruit pebbles. I also think about how much I love pomegranate too, but have way less patience and thus end up buying Pom juice in the fun shaped bottles for a rare treat. This pattern is a nod to the fruit and the juice in an abstract form, in a little art book.
Day 24 Rain- If I remember correctly, I had a different plan for rain, but it didn't really pan out, so last minute I just did this with my Aquash water brush pen, and navy blue watercolor, and finished it off with splatter, and voila. It's one of those patterns, that I wish they all could all be so quick and easy-peasy.
Day 25 Black and White – Last year I won a set of Gelli Arts mini shaped plates, and this rectangle one was my absolute favorite. I decided to make a pattern using just black on white paper, with my hand cut paper stencils.
Day 26 Turquoise -  I was trying to go for that silver and turquoise ring thing. Turned out more meh than I had hoped for.
Day 27 String – I thought of this picture of handspun yarn I made years and years ago from fiber I dyed with koolaid. This also turned out more meh than I had hoped for.
Day 28 Floral- Floral is another one of those pattern themes that I would love to explore, more, more, more and more of! This was just a quick pattern that I imagine being reproduced on fabric, but in a way that is reduced so the pattern is fairly tiny.
Day 29 Kaleidoscope- This pattern started out from the picture on the bottom, and then I assembled into kaleidoscope circles on the top on the computer. It came out way more busy than I had envisioned. That is funny because I restarted once when I deemed the first pile of collage papers to be too plain and basic.
Day 30 Plaid – Last year I had the idea of making a greeting card for Christmas with "buffalo plaid" that I would make from loose watercolors. I never got around to it, so this theme let me finally make that pattern that I wanted to do.
Day 31 Fruit Salad – I'm pretty opinionated on my fruit salads. There are few things worse than ordering a fruit salad at a restaurant and when it arrives it is just cantelope, honeydew and a grape. That is NOT a fruit salad. Fruit salad needs to have a LOT of variety. I built this sketchy fruit salad pattern on the computer and I rather liked how it came out.
And here the full collection. At the end Anika asked people to answer a questionaire on how the month went:
1. My favorite pattern – the barns/barnquilts for the Folk Art theme for the detail and subject matter being close to my heart.
2. Favorite prompts – swan, home, and floral. These are prompts that made me overflow with ideas and I want to go back to them and do more, more, more. The swan and floral themes were ones in particular that I already had plans for in my head prior to starting patternjanuary.
3. Biggest challenge – sleep. It's something that I struggle with regularly anyway. My natural sleep habits would have me up late because I'm most productive and creative late at night, but I have to work at 6 a.m. Last year I finally stopped fighting it and started going to bed around 9 p.m. but the week before January I was on vacation so I slept like I wanted, meaning up late. Then working on patterns, wanting to do them justice, I ended up staying up late furthering the bad sleep pattern. I have been surviving on little sleep for the month (and being late to work more often than not, as well 😱)
4. Most frustrating moment – had to be the times that I allowed myself to fall behind schedule because I was so overwhelmed by the prompts that I really wanted to do amazing stuff. I still haven't finished the dollhouse pattern.
5. Most popular pattern – rain. Funny because it was one of the simplest and quickest patterns I made after my first idea flopped. But I have to say that almost all of my patterns this month out perform my average posts. Thank you everyone, for the support!
6. Biggest surprise – citrus. It felt like the biggest dud, especially since I was feeling so rusty AND because the picture of it was taken at night, but it got so many likes and comments.
7. Proudest moments – being featured on other accounts and people reaching out to me about future projects due to these patterns ❤
8. Patterns I want to redo – almost all of them need additional work, and as stated above the dollhouse one was never completed, and I want to do additional swan, house and floral patterns, but as for completely redoing, there aren't any I'd scratch and start over.
9. Goals for next time – maybe stick within one medium? My pieces were all over the place from digital and hand drawn, to watercolor, and collage. Although I do think that allowing myself to mix it up helped me to stick it out. I worry that if I limited myself to one medium that I might get bored and throw in the towel. I just thought of another goal and that would be inspired by @jessee_artschooldropout who made her patterns, finalized them and then uploaded them to spoonflower all in one go. That is amazing.
10. Plans for February – catch up on all the things I neglected during January. I have so many things that I need to do that I'm a little overwhelmed where to begin. But number one should be to clean off my work table so I can get back to serious work
---
---