Tag Archive for 'paintings'
I'm back with a third installment of Art-o-mat III paintings
And if you are interested in seeing the previous posts:
Here is the second installment of Art-o-mat paintings, 11-20.
And if you are interested in reading the previous posts:
I'm participating in the 100 Day Project again this year, after sitting out last year. I'm doing a similar theme asto what I did 3 years ago, and trying to finish up a lot of big projects that I've had in progress for a long time. It's been about 20 days and I'm still feeling very excited and energized. The first major thing checked off my list was wrapping up Pattern January, which I let drag out for almost 4 months. I also finally ordered fabric samples from Spoonflower with my original designs, which was a BIG part of the 100 Day Project for me 2 years ago, but that I never actually finished. I also want to post more to my blog, AND give it a facelift, but more on those things soon.
In the meantime, I need to catch up on sharing my current Art-o-mat series, as promised a few posts back. Here are the first 10 of 50 acrylic paintings, made on handbuilt and stretched tiny canvases. When I started this (my third Art-o-mat series) I really wanted to go super fast and explore all sorts of things and try different ideas to hopefully develop as an artist. In the end I went through a handful of purely experimental pieces, but with 3 solid mini series/styles (grass quote paintings, blades of grass, and paintings of collages made from my own designed and decorated papers (gelatin prints made from handcut paper stencils).
And after I finished all my paintings I had the idea of taking a picture of each piece with a different and unique background.

Thank you for reading! Here is the introduction post for this series.
If you are interested in seeing the paintings from my previous 2 Art-o-mat series, you can click through the Flickr collection and albums here
I've been in a funk for the last couple days, and the fog has lifted! I'm adding things to my t0-do lists and feeling pulled in so many directions. When updating my list I accidentally crossed off that I had already posted about sending out my third Art-o-mat series, so here I am making it right.
When I started my third series I fully intended for it to be a very fast series. My first series was mostly paintings based on images that caught my eye, the second series was paintings based on collages I made. The third series started at the beginning of a new year and I decided that I was just going to explore and paint random things that came to me at the time, and hopefully it would help me grow as an artist quickly. I even aimed to send out multiple series in one year! Years and years later I finally wrapped up 50 paintings with a few smaller series included (grass quote paintings, grass profile paintings, and paintings based on collages from my gelatin printing).
If it hadn't taken long enough to build each mini canvas, and then paint each piece, once I was done then I started out on a whole new set of obstacles including photographing each piece with a unique background. For almost a year I carried a bag of a few paintings around with me  everywhere I went, looking for the best opportunity to chronicle each piece. THEN, once that was done I photographed each piece again, and the collection and mini collections and then needed to design the packaging and insert for the series. Then package it all up, and make sure they fit the requirements. To say I dragged the whole process out is an understatement.
Each series needs to be at least 50 pieces, and Art-0-mat may send 5-10 pieces to different machines and they can sell rather fast. I won't know where my artwork sold until I get my coveted little green card. Machine owners can request artists and Art-o-mat will try and fulfill those requests as they can. I'm soooo looking forward to seeing where my pieces sold. I also have a new series that I want to work on already.
I've been sharing each painting down one column of my instagram feed, and I'm crossing my finger that maybe a buyer or two will spy the artwork they purchased and leave a comment. I think I'll share a post for each 10 paintings. Meanwhile, feel free to check it out on instagram and follow me over there.
Also, feel free to click over to Flickr to look through all three of my previous Art-o-mat series.
If you follow
me on instagram
you might have seen sneak peeks of some of these pinwheel color pieces.
Shortly after moving into our house (August 2011) I bought a huge canvas with the intention of making some large artwork to hang on the walls. I went through
my pinwheel mania phase
and made a few canvas pinwheel paintings to sell in my etsy shop. After one of them sold I was a little sad to see it go, but then realized I could make one for myself on that large canvas that had just been sitting there for over a year.
I liked it (the top image) so much that when I found a bunch of little canvases I already had in my studio, I decided to keep going. When I shared one on instagram it got a decent enough response that I thought I should make some to offer for sale at
the Na-Da Farm Sale
and in
my shop
.
When making these pieces I find it hard to know when to stop. For the huge canvas I created a "sketch" on the computer so that I would know what colors should go where. Even though I was happy with the sketch, when I made the real thing I kept noticing issues of certain colors that i didn't like next to each other. I'd add a strip in here and a strip in there, and then that causes more issues and if I don't stop myself the strips will all become so narrow that looking at it will be like looking at an optical illusion and will make a person dizzy. Even now I see areas that could use another color, but I have to call it finished (for the time being). Now, we'll need to figure out where to hang it.
I made this one last week after
Anne Marie of NaDa Farm
posted theme colors for the sale will be pink, turquoise, green and gold.
I'd also really like to loosen up on these. One of the things I loved most about the idea of these pinwheels was that some of the colors would be more textured. That's why I've added the chalkboard paint one of gold paint, but I would also really like to do some where it's just messy and not a solid color, or even straight lines. I have a hard time just letting go.
Unrelated, if you've made it this far down, I'm just about to wrap up my last installment of the 100 Things About Me series. I'm sure I'm missing things that should be shared. I posted a thing on
my facebook page
asking for suggestions of things you might like to know about me. If you can think of something you think I should share, leave a comment
over there
.
Just a quick pop in to share some new items I've added to my etsy shop.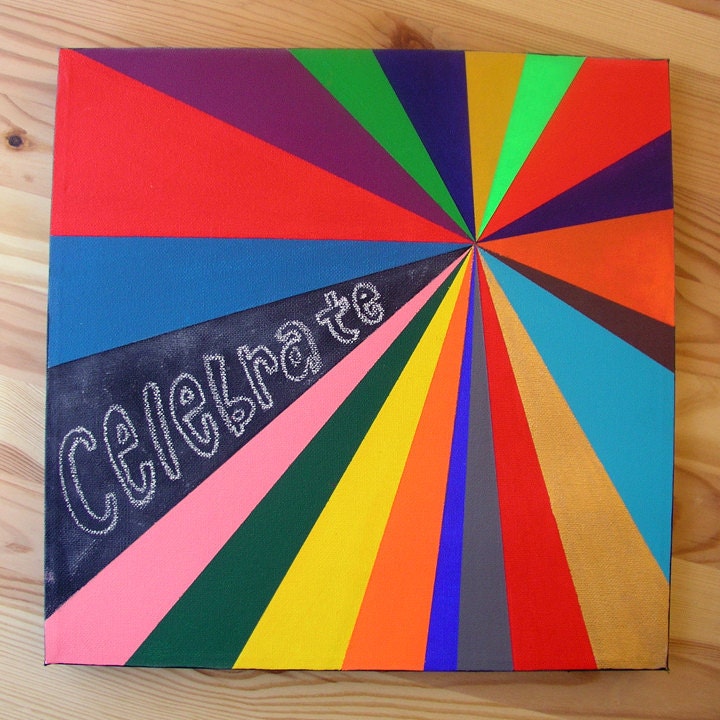 I made this 12″ square pinwheel painting with chalkboard paint, so you can customize and share your own affirmations.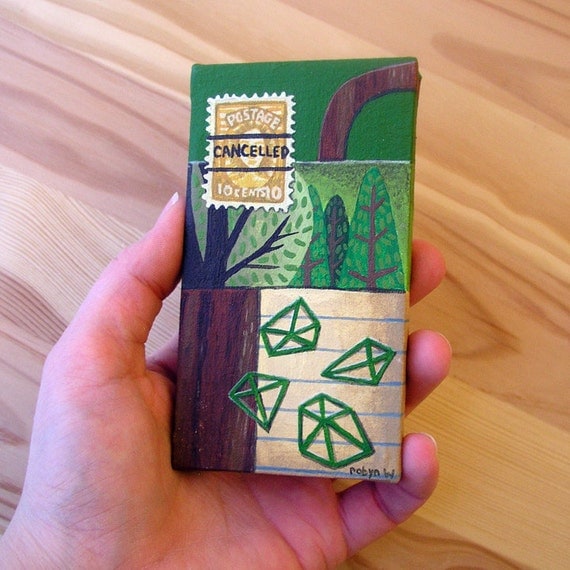 I made this little painting last year for a commercial project that never got the green light. I really love it a lot, but I made the painting knowing that it would be for someone else, so I am posting it to my shop now.
And last but not least: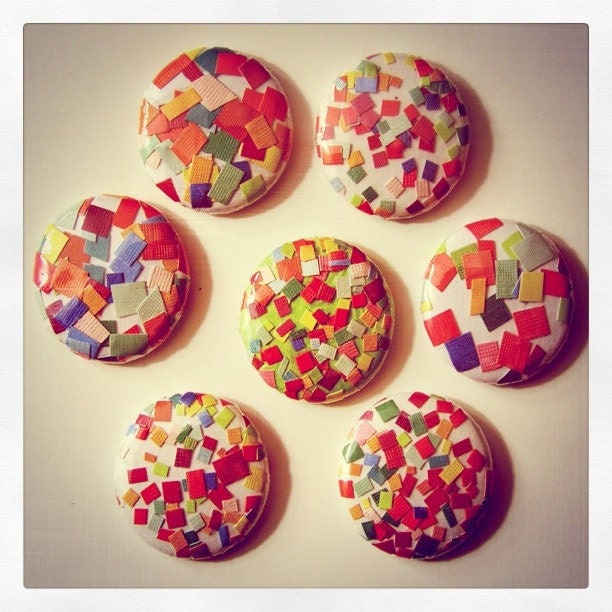 Party on, Wayne! Party on, Garth! These confetti buttons were made for you to take your own party on the road.  Each button is made up of tiny handcut paper confetti.
 Another Mailart 365 update.

card 107/365


card 106/365


card 110/365


card 109/365


card 108/365


card 105/365


card 104/365
I never got around to posting the last 3 postcards from last weeks mailart365, so I'm doing a little mini dump today. I'll post this weeks cards tomorrow.
I created 3 little stamps for the background pattern. BTW, is there a name for that scallop-like pattern? Anyway, I stamped the background of all three postcards at once.
I gave this first one a very light gesso wash to make the background more pale. It looked very Eastery, so I painted an egg shape in the center and then drew a girl with bunny ears inside that. I love drawing on gesso. If you haven't tried it before, I highly recommend it.
It's card #38/365 and the list that was written on this postcard is something like My favorite people.
The next card I put the mixed stamp stamp over it and called it a day.  The card is #39/365 and the list on the back is things I hope happen in the next year.
Postcard #40/365, I did a dry horizontal brush in gesso and then another vertical to give it a hopefully textile like texture, then I stamped my polaroid hand carved stamp on it. The list on back is a list I really liked that I came up with, Things that should happen on road trips. I wish all lists were so easy to come up with.
This morning I was awarded the Stylish Blogger Award by Joyce at Young By Design. Thank you Joyce! I will return soon to share my fun facts and share the award with some of my favorite stylish bloggers.
I'm still going strong on my mailart365 project. I also signed up for iHanna's DIY Postcard Swap, so some of these cards are dueling that project.

This is postcard #23 and the list on the back is nicknames I've had.

The above postcards were made using the handcarved stamp from the previous post. I made another for the background. These are postcards #20 and #21. Backs read Dream Professions and Things I would change about myself

Postcard #22, 10 Memories from the past 12 months.

#24, Things I always carry with me
I've listed two new paintings to my Etsy shop today. The first one can be found here. They are in the same style as my Artomat pieces, which can be seen here. These paintings are based on collages I did during Thing A Day in February.
The second painting can be found here.
Also, I sold these miniature books that were commissioned. I LOVE the smaller one. It looks like it's leather bound, but really it's a fancy textured paper. I'll have to keep my eye out for more papers similar to these. I have another one to list in my etsy shop, but I've been thinking of turning it into a necklace.
---
---