One of the first inspirations I had in making mailart was an editorial in Real Simple magazine, probably in 2000 or 2001. The editor told a short story about lamenting to her mail carrier about only receiving bills and junk mail, and her carrier responded "how do you think I feel, that's all I deliver anymore?"

I decided then and there that I wanted to make mail that was fun for me to send, fun for my recipient to receive, and fun for all the carriers and postal workers in between my recipient and myself as well! I hope that it brightens not just myself and my friend's day. I made my first mailart postcard around 2000-2001 (above from Flickr). This was probably a few years before I even discovered there was a whole "mailart" movement/culture/community.
(Side note: I love that the postcard has grass and stars, even in my original mailart that far back.
I honestly think of that Real Simple editor's letter all the time still. When I make mailart I like to imagine all the hands it passes through between myself and the recipient. When I first started making mailart I focused mainly on postcards because the artwork would be able to be seen by everyone along the way, and while post carriers are probably dissuaded from reading the letters on the back, I'm sure they do and I would sometimes address them and wish them a good day.
That drive to put joy out into the world via mail has resulted in me sending out hundreds and hundreds of pieces of mailart over the years. You can see more of it in my Flickr mailart album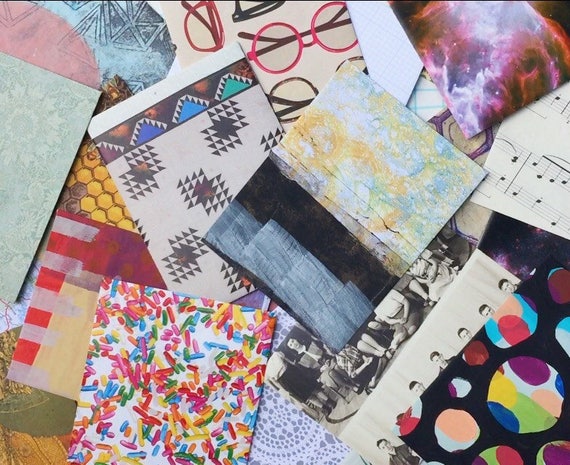 Fast forward to today and that sentiment is just as true as it was in the beginning, though now I like to spread that joy even further by offering my original stationery paper products (like these one of a kind handmade envelopes) in my online shop. Visit robayre.etsy.com today to find some paper treasures that will certainly brighten my day, hopefully your day, your recipient's day, and all the carriers in between.
Save
Save
Save
Save
Save