This piece, #22, marks the first in LARGER work for the circle series. This piece, on the inside of the matte, measures 12.5″ square, which is larger than the previous pieces in a frame. It's currently listed for sale here and will be shipped in this larger gallery frame. I'm very proud of this piece.
A little back story; I had the idea for a piece with a paper pierced ring and started it as a smaller standard size, compared to previous pieces.


I spent so much time working on that paper piercing ring and then when that ring was done continued on with the next concentric circle. I had this vision of very translucent layers of watercolor rings, layered over each other and instead of the layers being as I envisioned, the colors just got muddy and absolutely ruined the piece. Fortunately, I took the opportunity to start over, work larger and learn my lesson that if one particular part takes a looooong time, best to do that LAST. The result, this lovely piece that I LOVE!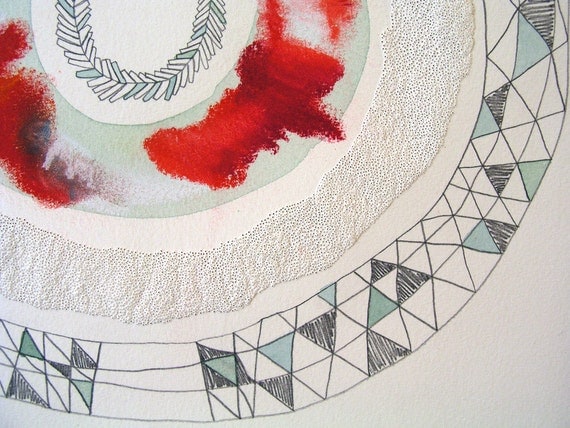 With the larger size and time invested in all of those tiny individual piercings, this piece is listed at a higher price than previous circle series pieces. There are other smaller pieces still available here as well.
And in more Circle Series news, I've mentioned before that my Aunt used my original circle series pieces printed onto fabric to make a quilt. Well, she entered that quilt into a juried show and won judges recognition on it! She's very creative and has made many quilts, but this was her first piece entered into a juried show. That is quite the honor, don't you think?