I'm the type of person who plays favorites. Favorites with my clothes, that is.
I find something I love to wear and wear it to death. If it was acceptable, there have been certain pieces I would probably would have worn all week long. When I don't have to worry about someone else seeing me and saying "didn't you wear that yesterday?" I will sometimes wear the same thing all weekend long. Right now, I've got 5 favorites on heavy rotation.
Here they are:
My happiness and Adventure top that I revamped a couple weeks ago.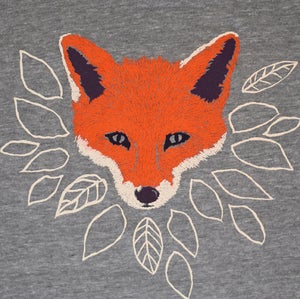 My fox t-shirt by gnomeenterprises.net, I got at Renegade this year. Not only is the most comfortable shirt ever, I always get compliments on it AND when I wear a zipper hoodie with it, people tell me it looks like the fox is just peeking out.
I recently got this black and white striped v-neck t-shirt from TJ Maxx. I rarely go in there, but when I do I usually find the best items in the Men's department. This shirt is almost as soft and cozy as the fox shirt, it's the ideal stripe thickness AND it has a soft worn look to it. I really needed another black and white striped top like I needed a hole in my head, but this is really unlike most of what I already own. If they had two of this shirt, I probably would have bought both just so I'd have a back up when the first one gets dirty.
and then to show you just how out of hand my black striped shirt dependence is, I just got this shirt and for the life of me I can't remember where I purchased it. It's gotten that out of hand. Some day I should take a picture of all the black and white striped tops I have hanging in my closet. 10 years ago I took a similar picture of my collection, but woah Nelly, have I ever amassed so many more since then.
Lastly, we have my Goonies shirt. I got this shirt from Target when I was on a mission to buy a "proud to be awesome" shirt that Rachel mentioned on facebook. Instead I was sidetracked. As soon as I saw the Goonies shirt I knew it had to be mine. It was destiny that I found that shirt. This is one of my all time favorite movies AND the first movie I ever saw with my best friend when we were just little kiddies.  Wearing it not only sends the message "Goonies Rule" but also "I'm proud to be awesome" at the same time. Score. Two shirts in one.
Geesh, I apparently love t-shirts.
What is your favorite thing to wear right now?