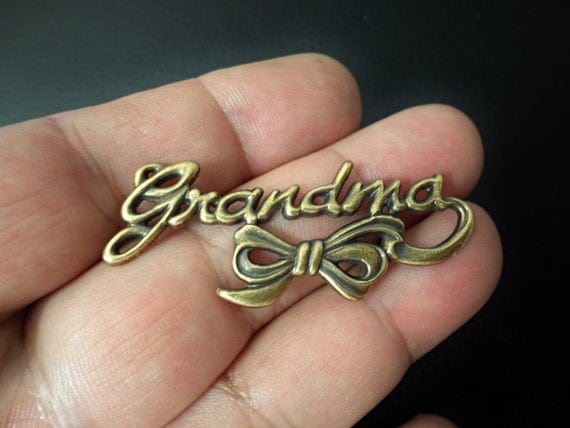 Picture via Charmsking on etsy
I'm getting old. You wanna know how I know this? I'm finding more and more of these things that I used to dismiss as "old-person stuff", to be suddenly in my taste. Things like: Gold, or any warm toned jewelry for that matter, as opposed to "SILVER ONLY" of my youth. Thin, patterned scarves made from fabric that serve no purpose other than fashion, as opposed to chunky and thick knit scarves to keep me warm. And then the subject of this post, Brooches, as opposed to NO BROOCHES, because well, only grandmas wore pins and brooches. I remember looking at my grandma's jewelry box, overflowing with gaudy brooches, enamel (probably on some brass or bronze) and floral and what have you, and thinking this "costume jewelry"  just screamed old lady.
Fast forward to today, brooches are the bees knees, the cat's meow, just the ultimate. I'm an old 37 years! I have definitely found myself on etsy, window shopping brooches more than once, and my small personal collection is growing.
Fortunately, all hope need not be lost. With the DIY and Handmade movement, brooches and pins need not be your grandma's jewelry. How often has your own grandma sported a denim jacket covered in pins from her favorite punk band? This reminds me, Matt was telling me recently about how there was a meet and greet for the new students at the college where he works. He and a coworker heard the Weezer's Undone – The Sweater Song come up on the background music they were playing, and they both had a laugh that none of these college students would even know that song. When Matt recounted the story to me later, it dawned on me though, they may very well know that song because that's the music of their parent's generation. So, while I listened to (and my Dad even took me to concerts of) The Rolling Stones, the kids today may be jamming to golden oldies like Fiona Apple, Third Eye Blind and Sublime. Feeling old? Great, I have some jewelry for you to check out!
Of course, in addition to any brooches or pins I've made myself, I have been acquiring some real lovelies.
My latest favorite has to be this Fingers Crossed enamel pin by Georgia Perry. To me, the most glaring omission of the emoji keyboard is the Fingers Crossed. I was constantly looking for it when I first downloaded the keyboard, and finally at one point I even made my own graphic to insert in text messaging.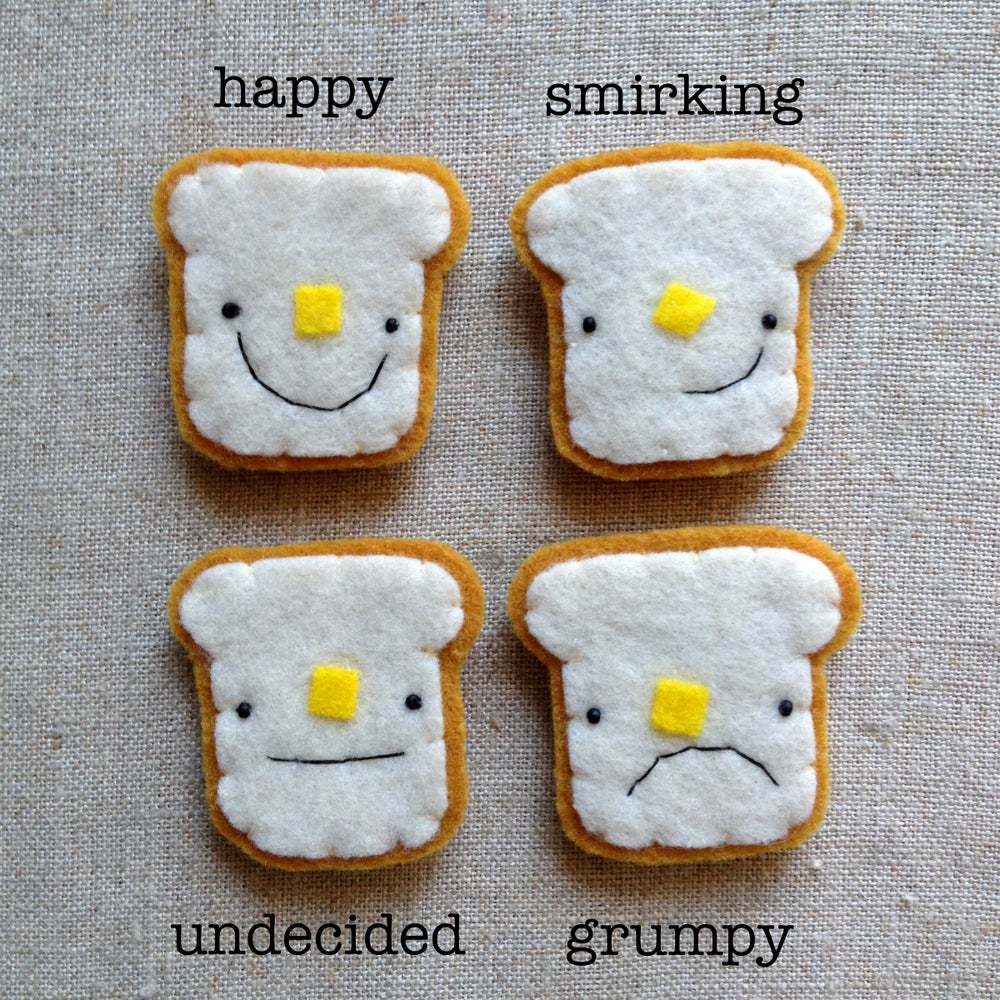 I have a few felt brooches from Eling of Migration Goods
Here are 3 brooches I recently purchased from Katie Cowden, via instagram. She had shared these styles as earrings, but since I don't have my ears pierced she customized them into brooches for me.
Here's a seasonal pin, that was part of Heidi Kenney's Plush of the Month Club, a potato or pumpkin pie (with whip cream nose) face.
Here is another custom brooch. Last year at Renegade I Ooohed and Aaaahed at the Fox and Hammer booth. I searched and searched through soooo many animal brooches for one that really spoke to me. I loved all the pieces but I didn't want to buy just any animal, so after the show I emailed them about a Bison (American buffalo). She said she'd been planning on making one and drew one up and emailed me to see if I liked it and then I got to choose the fabric as well!
I found out about these adorable cat badges via instagram as well, from illustrator Emma Carlisle. (The pictures above are from her Etsy shop)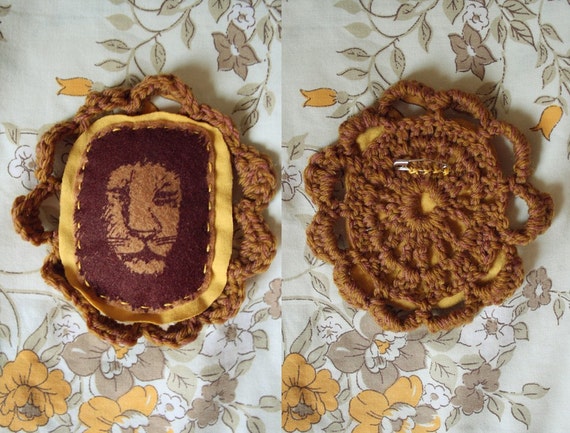 A silk screened lion over crochet by Kim Smith of Art Equals Happy (picture by Kim Smith on Etsy)
Definitely one of my first and favorite Brooches (top Right, but the other pictures are of a necklace she made as well) by Marta Mendes. I've actually acquired a few more over the years through mail swaps with her. In addition to her blog link above, she can be found here and here
OK, so what do you think? Not grandma Jewelry, right? Let's not talk about the frequency of cat brooches though.