I was very excited to get invited to participate in a blog hop by artist, designer and friend Katie Licht. She's the greatest so I encourage you to check out Katie's blog, flickr, follow her on instagram and check out her etsy shop. She has a new zine out and I love it!
1. What Am I Working On?
Short Answer: I've been in a rut lately and mostly THINKING of a lot of projects but actually only finishing a lot of netflix. I'll do a little here and a little there, so I'll share 5 of the main things I've got in the works.
Long Answer: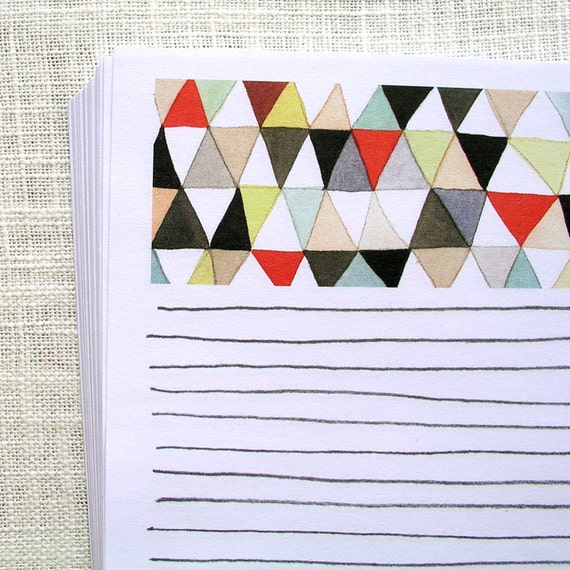 A. A Paper product line. A big focus of mine has been that I want to create a paper product suite, and I have so many ideas for this! By day I work as a designer for a printing company, and while designing lines is not part of that, the idea of designing paper products during my own downtime used to feel very much like going to work after getting off of work. Things have changed slowly over time. I have paper products in my etsy shop, but they are just single items and not part of a whole collection (other than made by me). It's only recently with the inspiration from other paper product designers and my subscription to Stationery Trends that I have really wanted to pursue expanding on a cohesive line of my own.
In the past I would have taken my first idea and just run with it, and that is kind of the result with the current paper products in my shop. But this time I'm trying to play out a bunch of different ideas and see where they go, not to worry about them being perfect, and then once I have a whole bunch of semi thought out things to look over I will decide which I think is the strongest and/or which I'm most excited to continue with and then I will proceed. This leads to my next project topic.


B. Handlettering: I've been wanting to play more at hand lettering. I created a board on pinterest for inspiration, had an art date with some crafty friends, bought this book, and paid for (but haven't finished yet) this e-course. I mentioned the beginnings of my desire to do more handlettering in this post here.


C. A shelf over the kitchen sink. The picture above is not my kitchen window but the kitchen window at my parents' house. For a long time I've been wanting to put up a shelf in the window over the kitchen sink. It would serve a few purposes. It would remind me of my mom's kitchen window, it would allow me to display some items, and I will hopefully be able to put some small plants in the house (something that will be out of reach of the cats, as they destroy every plant that comes into the house). Not finding what I envisioned, I just built something, but I wasn't THRILLED with it. Then I saw this post and while I'm not looking for exactly that same thing, their end result was more along the line of what I wanted. I think I can combine my idea and their idea to get the perfect window shelf for me. I'll post more when I have the final shelf up.


D. Artomat. It's ridiculous, but I started a new series of artomat paintings at the beginning of 2012. You have to have at least 50 pieces to contribute. I told myself that I wasn't going to make a big deal of it (no pre drawings or collages first) just go! I actually had the nerve to even say maybe I'd be able to put out a couple of series in 2012. I think I finished 20 paintings right away, and then in the 2 years since, maybe another 10. I have all the canvases built and so sometimes I will just get in artomat gear and sit and paint.

E. Mailart. Same as the artomat, it's always on my mind. Artomat and Mailart are the things that I always want to work on when things calm down and I have free time. I have a huge box full of mailart, already complete, that just needs to be addressed and sent out.
2. How does my work differ from others of its genre?
Genre? Which genre? Genre what? I just googled list of art genres and found this list of art genres on wikipedia. Hmph, funny, I don't see a category called Robyn. I'm not going to go through every single category but just looking here and there I don't see any that I would fall into. It certainly doesn't help that I create artwork in countless mediums. I like to call myself an artist/crafter/designer. I think that I have a unique vision, where I'm drawn to a very scrappy and handmade aesthetic and incorporate my designer's eye. My artwork is different from others because no one else has seen all the same things I have seen, or been through the same things that I've been through. I try to make a conscious effort to make my work uniquely my own. Often when I have a great idea I will google it to make sure that no one else has already done that. I just think it's kinda sad when everyone jumps onto the same exact idea or style. It can sometimes be hard to avoid this in this day and age when we are all taking in the same information and being inspired by the same sources.
3. Why do I create what I do?
It just feels good to create. I get so much satisfaction from having that initial spark of an idea to resolving and completing an idea and having something to show for it. I think it's just the way my mind works. Often ideas just come to me when I'm about to fall asleep or walking on the treadmill. I also love being able to be participate in communities online and (and sometimes even in real life) where everyone is sharing what they are working on. I am putting something out into the world, even if it isn't something being sold. And seeing other people creating makes me want to create as well.
4. How does your creating process work?
I had it drilled into my head during my early years of college that I had to carry and use a sketchbook and it's just become a habit. As I said above, ideas may come to me at the weirdest of times and I try to make sure to write them down immediately because no matter how brilliant an idea is and how sure I am that it could not be forgotten, it is guaranteed that the idea will be gone (poof!) if I wait to write it down until later. Unlike a typical sketchbook, filled with drawings, my sketchbooks are mostly filled up with writing, describing ideas, concepts, colors, materials, to-do lists, etc., with few actual sketches, drawings or collages. Even if nothing comes of the idea now, it's great to have the option to go back and remember, be re-inspired, or get a new spin off an old idea. From putting it down into my sketchbook, it may be some time before I get to work on the idea. When I do, I may work on it at the coffee table in front of the TV (netflix addiction) or actually go into my studio. I like to light a scented candle in my studio and listen to music while I work. Sometimes I think that the tradition helps me make that left to right brain switch and get into flow. I have a drawing table but to be honest, my mind works better when I'm laying down. Even when I was younger in school, I had to do all my studying laying in bed or on the floor. Often I will work on many pieces at once. So, I may work on a piece for a while, put it aside and then come back to it later. If the piece is artwork it may be completed at this stage. Other times, a piece I created for one purpose might have a second life being used again in a different medium. I may scan things in and use it for a paper product, or maybe print out the scans and use them in a different way altogether.
I'm tagging 3 people:
Rosa, of Muro Jewelry and the creator of Found Art Tuesday.
Courtney, of Larking
Ann, of A Beautiful Party
And I just want to mention that right after Katie invited me to participate I got another invitation from Jeannine, another great artist. So, please check out her post here
And Katie had tagged me as well as Natalie Mutrux and was I glad she did! I've been enjoying reading her blog posts this last week. So productive and so inspiring!