As promised, I am back with my prairie project!
After returning from Nachusa I was inspired to watercolor some prairie grass. Using this picture of mine as a reference…
I came up with this…
Which is a fairly loose (read: not botanically correct) interpretation in watercolors, but I really liked it. Originally I was going to go back in and try to paint a really dark green in all of the negative space, but I ended up liking it so much that I was afraid to ruin it. If you know me, I'm not done painting grass, not for a long shot, so something like that might happen again later.
In the meantime, I let the watercolor sit around and I enjoyed it until I came up with the idea of using it for a stationery set. I continued to paint more, added some details and voila!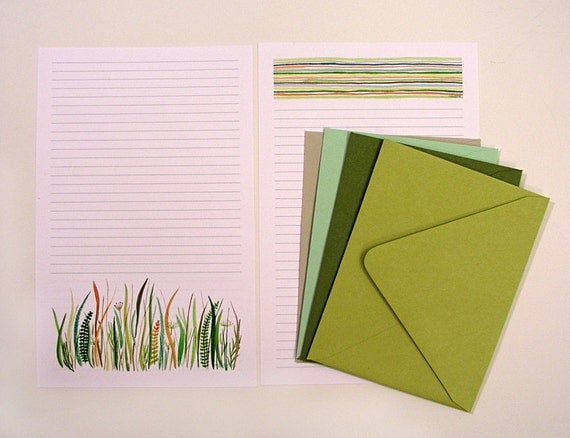 I created a stationery set which has two designs, one with the grass at the footer, and one with green watercolor stripes as a header. In the past I had customers inquire about double sided stationery and so both sheets are lined on the back as well. The stationery set comes with an assortment of green envelopes and the stationery paper is printed on a lovely Neenah Classic Linen paper (same as my recycled envelope and stationery sets). Find out more details about the stationery set in the etsy listing.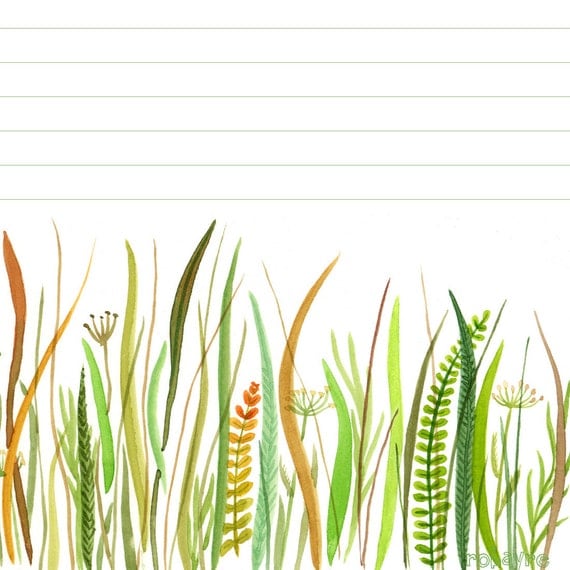 And if that wasn't enough, I've recently started exploring into digital downloads, so I'm offering the same stationery set as a printable download as well. With the printable PDF you can print the prairie stationery on whatever paper your heart desires, AND if you'd like it to double sided or not.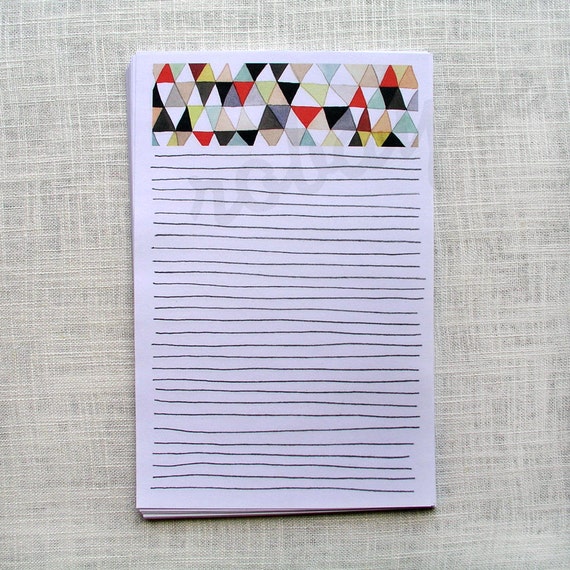 I've also started offering this geometric pattern stationery set as a printable download as well!
I'm getting really excited about my etsy shop again. For a long while I wasn't keeping up with all the changes on etsy, and apparently etsy was making a LOT OF CHANGES. Keep an eye on the shop for new listings that I hope to be adding regularly.
I have been saying this for a long while, but there's this HUGE trend in greeting and note cards, but to me stationery is and will always be letter writing paper. To me, cards are for a quick thanks or hello, but letter writing paper is for real correspondence. I remember years ago being so sad while searching etsy and seeing the results for stationery was 99% cards. Where were all the letter writing paper sets? Then I read a feature in Stationery Trends about a particular designer (who I can't find the name of right now) that said her best selling products were letter writing papers and I was all "YESSSSS!" and it really gave me the confidence to keep doing what I love to do, and not feel like I have to bow to trends and start offering only greeting cards. This is not to say that I don't LOVE cards as well, I do, but I just also love paper and it also has a nostalgia factor for me, of writing long letters and being a dedicated penpal as a kid. I also know that excitement of getting real mail and how much I LOVE pouring over a long letter and rereading it over again. Even when I send postcards I try to fill up ALLLLL the space hoping that the recipient will enjoy it that much more.
Do you write a lot of letters? Or mostly use cards? And when you do write cards, do you find you just jot a few words down or fill it up like a letter?