This weekend I was really excited to make a bunch of little journals. They are similar to my little book that I purchased at an art show in 2009. The pages are even smaller though, at 3″x2.25″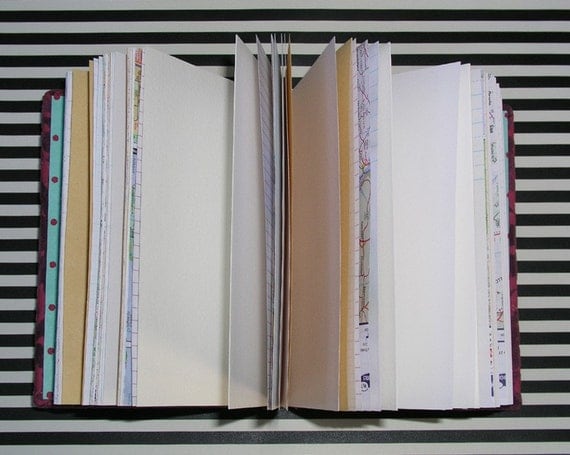 When I was in college I took a bookmaking class and have since made a few books that I've sold through my shop. The above image is a hardcover book I made and one of the first items I ever sold in my etsy shop back in 2006. Below is another hardcover book in my shop currently.
and I've made many super teensie tiny handbound books like below
I even used to make tiny books on earrings, but I don't have pierced ears, so I always felt kind of weird about offering an item that I couldn't even enjoy myself. I love making tiny things so I wouldn't rule out ever making them again, and well, now that I have even brought them up I'm sure to want to make some more.
I still have my book cradle that I made in college. One end fell off and so I craftily cut up an old book cover to replace the missing end.
Since that first bookmaking class I've pretty much only ever made hardcover books on my own. I really do love my little book and so I thought "why not try and make a little softcover handbound journal of my own." I brought out my old college textbook for a refreshener. Everything went well on the first one, and so I made several more!
Similar to the hardcover books I've made, the new ones have a variety of papers inside, including graph, drawing paper, vintage papers and some lined paper that I've made myself.
They were fun to make and I hope to make some more in other sizes.
While looking for a link to my college text book I saw this awesome looking book on making mini books,  and I think I've seen this one at our local Barnes and Noble and have heard good things about it.
Also, I realized while composing this post that as soon as a book has a leather cover (whether hardcover or soft) it automatically becomes a journal in my mind. Even if the pages don't really lend themselves to journaling. Why is that? The leather that I used to make these little books were bought in a bag of remnant leather scraps, thus the small size of books.